Hey guys!
Today I'm sharing my most anticipated releases of June 2019. These are in order of release date.
This post contains affiliate links.This means that if you purchase through such links, I will receive a small commission at no additional cost to you.
---
Sorcery of Thorns by Margaret Rogerson 
Release Date:4 June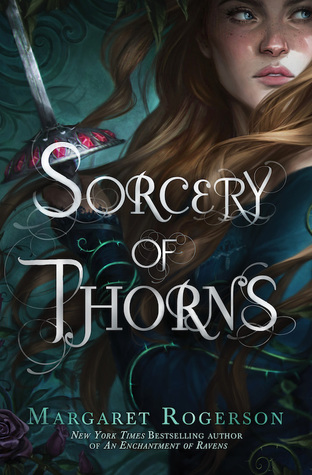 All sorcerers are evil. Elisabeth has known that as long as she has known anything. Raised as a foundling in one of Austermeer's Great Libraries, Elisabeth has grown up among the tools of sorcery—magical grimoires that whisper on shelves and rattle beneath iron chains. If provoked, they transform into grotesque monsters of ink and leather. She hopes to become a warden, charged with protecting the kingdom from their power.
Then an act of sabotage releases the library's most dangerous grimoire. Elisabeth's desperate intervention implicates her in the crime, and she is torn from her home to face justice in the capital. With no one to turn to but her sworn enemy, the sorcerer Nathaniel Thorn, and his mysterious demonic servant, she finds herself entangled in a centuries-old conspiracy. Not only could the Great Libraries go up in flames, but the world along with them.
As her alliance with Nathaniel grows stronger, Elisabeth starts to question everything she's been taught—about sorcerers, about the libraries she loves, even about herself. For Elisabeth has a power she has never guessed, and a future she could never have imagined. 
Add to Goodreads Buy:Amazon|Book Depository 
This book sounds like something I'd really enjoy and I'm excited to read it.
Ghosts of the Shadowhunter Academy by Cassandra Clare and Others
Release Date: 4th June
The Shadow Market is a meeting point for faeries, werewolves, warlocks and vampires. There the Downworlders buy and sell magical objects, make dark bargains, and whisper secrets they do not want the Nephilim to know. Through two centuries, however, there has been a frequent visitor to the Shadow Market from the City of Bones, the very heart of the Shadowhunters. As a Silent Brother, Brother Zachariah is sworn keeper of the laws and lore of the Nephilim. But once he was a Shadowhunter called Jem Carstairs, and his love, then and always, is the warlock Tessa Gray.
Follow Brother Zachariah and see, against the backdrop of the Shadow Market's dark dealings and festive celebrations, Anna Lightwood's first romance, Matthew Fairchild's great sin and Tessa Gray plunged into a world war. Valentine Morgenstern buys a soul at the Market and a young Jace Wayland's soul finds safe harbor. In the Market is hidden a lost heir and a beloved ghost, and no one can save you once you have traded away your heart. Not even Brother Zachariah…
Ghosts of the Shadow Market will be co-written with Maureen Johnson, Robin Wasserman, Sarah Rees Brennan and Pulitzer finalist Kelly Link and will initially be available digitally.
Add to Goodreads Buy:Amazon|Book Depository 

I'm really excited to be back in the Shadow World although I still need to read Red Scrolls of Magic
Stronger Than a Bronze Dragon by Mary Fan
Release Date:11th June
When a powerful viceroy arrives with a fleet of mechanical dragons and stops an attack on Anlei's village, the villagers see him as a godsend. They agree to give him their sacred, enchanted River Pearl in exchange for permanent protection—if he'll marry one of the village girls to solidify the alliance. Anlei is appalled when the viceroy selects her as a bride, but with the fate of her people at stake, she sees no choice but to consent. Anlei's noble plans are sent into a tailspin, however, when a young thief steals the River Pearl for himself.
Knowing the viceroy won't protect her village without the jewel, she takes matters into her own hands. But once she catches the thief, she discovers he needs the pearl just as much as she does. The two embark on an epic quest across the land and into the Courts of Hell, taking Anlei on a journey that reveals more is at stake than she could have ever imagined.
With incredibly vivid world building and fast-paced storytelling, Stronger Than a Bronze Dragon is great for readers who are looking for something fresh in epic fantasy. 
Dragonnss! I also love this cover.
Wicked Fox by Kat Cho
Release Date: 25th June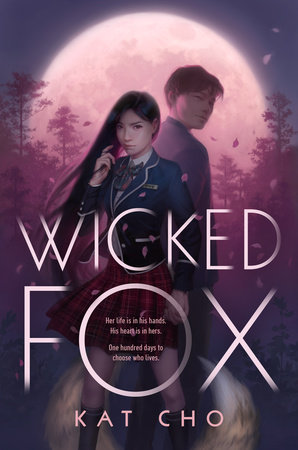 A fresh and addictive fantasy-romance set in modern-day Seoul.
Eighteen-year-old Gu Miyoung has a secret–she's a gumiho, a nine-tailed fox who must devour the energy of men in order to survive. Because so few believe in the old tales anymore, and with so many evil men no one will miss, the modern city of Seoul is the perfect place to hide and hunt.
But after feeding one full moon, Miyoung crosses paths with Jihoon, a human boy, being attacked by a goblin deep in the forest. Against her better judgment, she violates the rules of survival to rescue the boy, losing her fox bead–her gumiho soul–in the process.
Jihoon knows Miyoung is more than just a beautiful girl–he saw her nine tails the night she saved his life. His grandmother used to tell him stories of the gumiho, of their power and the danger they pose to humans. He's drawn to her anyway. 
With murderous forces lurking in the background, Miyoung and Jihoon develop a tenuous friendship that blossoms into something more. But when a young shaman tries to reunite Miyoung with her bead, the consequences are disastrous . . . forcing Miyoung to choose between her immortal life and Jihoon's.
Add to Goodreads Buy:Amazon|Book Depository 
This book sounds so cool. I really want to read it!
---
Which books are your most anticipated?
---
Previous anticipated releases posts:Most Anticipated Releases|January 2019, Most Anticipated Releases|February 2019, Most Anticipated Releases|March 2019 Most Anticipated Releases|April 2019 Most Anticipated Releases|May 2019
Graphic used and edited from free background photos from pngtree.com