Aurora Rising by Amie Kaufman and Jay Kristoff
Source:Bought
Pages:470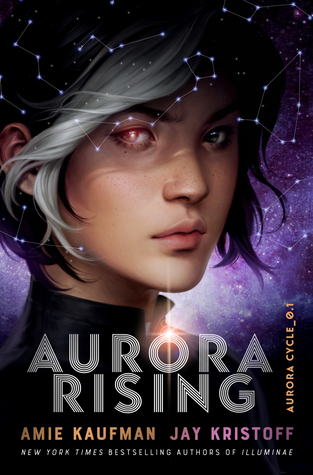 The year is 2380, and the graduating cadets of Aurora Academy are being assigned their first missions. Star pupil Tyler Jones is ready to recruit the squad of his dreams, but his own boneheaded heroism sees him stuck with the dregs nobody else in the Academy would touch…
A cocky diplomat with a black belt in sarcasm
A sociopath scientist with a fondness for shooting her bunkmates
A smart-ass techwiz with the galaxy's biggest chip on his shoulder
An alien warrior with anger management issues
A tomboy pilot who's totally not into him, in case you were wondering
And Ty's squad isn't even his biggest problem—that'd be Aurora Jie-Lin O'Malley, the girl he's just rescued from interdimensional space. Trapped in cryo-sleep for two centuries, Auri is a girl out of time and out of her depth. But she could be the catalyst that starts a war millions of years in the making, and Tyler's squad of losers, discipline-cases and misfits might just be the last hope for the entire galaxy.
They're not the heroes we deserve. They're just the ones we could find. Nobody panic.
---
This post contains affiliate links.This means that if you purchase through such links, I will receive a small commission at no additional cost to you.
---
My review
AHHHH I LOVED THIS BOOK
I DON'T KNOW HOW TO WRITE THIS REVIEW.
I LOVED EVERYTHING ABOUT IT.
I loved this book. I started it and was instantly hooked. I never wanted to put it down. This book is set in the future,2380 to be exact, and follows 6 graduating students from Aurora Academy who are grouped together because no one else wanted them. It also follows Aurora who is out of her time, she was in a cryosleep. That's all I can say without spoiling it.
I really loved everything about this book. I loved all the characters and their backstories,although I didn't initially love one, but by the end I did. I was interested to know about all of them and who they were as people. I think my favourite character is Kal,although I really love all of them. Did I mention I loved this? I really liked the dynamic between all the characters and the back and forth banter they had. I liked the relationships, though I won't mention which ones,spoilers!
It was told in first-person point of view and I found that to be a really good way of telling the story because we got the thoughts and feelings of everyone while moving the story forward. There was no repetition in the point of views and I could also tell everyone apart.It also had little snippets from a AI which told useful information of the world.
The world building was great. Not everything was thrown at once and we were getting to know the world with one of the characters.I really liked getting to know about the different planets and their histories. I love space and really need to start reading more sci-fi because I do not read enough.
The plot of the book was really interesting and it left me guessing at every turn. At first it was a bit slow,but when it picked up, it PICKED up. We didn't really know where the story was headed which made it that much more interesting.I was constantly turning the pages to know what happens next. I found Aurora's story line to be the most intriguing and wanted to learn about her and her story, Her background was essential to the plot.
All in all, it was a fast paced story that had action at every turn and high stakes. It left me excited to return to it whenever I put it down.
I recommend this book to people who enjoy fast paced sci-fi and adventure.
5/5
Buy: Amazon|Book Depository
My first 5 star read of the year! Techincally not, but I changed my rating of the other book later so.
---
Have you read this book?What did you think?
---
Graphic used and edited from free background photos from pngtree.com