Hey everyone,
I'm here with another Down The TBR Post.
Down The TBR Hole is a weekly meme that revolves around cleansing your TBR of all those books you're never going to read and sort through it all to know what's actually on there. It was created by Lost in A Story.
Most of you probably know this feeling, your Goodreads TBR pile keeps growing and growing and it seems like there is no light at the end of the tunnel. You keep adding, but you add more than you actually read. And then when you're scrolling through your list, you realize that you have no idea what half the books are about and why you added them. Well that's going to change!
It works like this:
Go to your goodreads to-read shelf.Order on ascending date added.Take the first 5 (or 10 if you're feeling adventurous) books. Of course if you do this weekly, you start where you left off the last time.Read the synopses of the books,Decide: keep it or should it go?
From last time I have 140 books. You can view that post here.
Enclave by Ann Eguir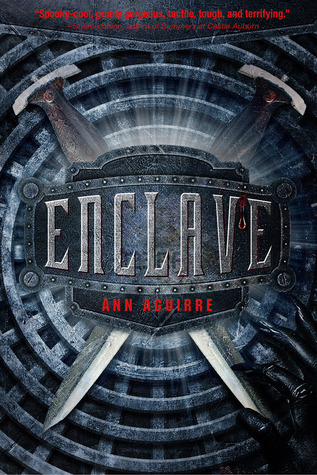 New York City has been decimated by war and plague, and most of civilization has migrated to underground enclaves, where life expectancy is no more than the early 20's. When Deuce turns 15, she takes on her role as a Huntress, and is paired with Fade, a teenage Hunter who lived Topside as a young boy. When she and Fade discover that the neighboring enclave has been decimated by the tunnel monsters–or Freaks–who seem to be growing more organized, the elders refuse to listen to warnings. And when Deuce and Fade are exiled from the enclave, the girl born in darkness must survive in daylight–guided by Fade's long-ago memories–in the ruins of a city whose population has dwindled to a few dangerous gangs.
Ann Aguirre's thrilling young adult novel is the story of two young people in an apocalyptic world–facing dangers, and feelings, unlike any they've ever known. 
So I don't even remember putting this on my TBR. I haven't heard anything about it and I have so many other books that I'm excited for so this is going.If you've read and enjoyed it, please let me know!
Mind games by Kiersten White
Fia and Annie are as close as two sisters can be. They look out for each other. Protect each other. And most importantly, they keep each other's secrets, even the most dangerous ones: Annie is blind, but can see visions of the future; Fia was born with flawless intuition—her first impulse is always exactly right. 
When the sisters are offered a place at an elite boarding school, Fia realizes that something is wrong . . . but she doesn't grasp just how wrong. The Keane Institute is no ordinary school, and Fia is soon used for everything from picking stocks to planting bombs. If she tries to refuse, they threaten her with Annie's life.
Now Fia's falling in love with a boy who has dark secrets of his own. And with his help, she's ready to fight back. They stole her past. They control her present. But she won't let them take her future. 
Okay, so I added this years ago and reread the synopsis. I was feeling meh about it but then read boarding school, so this is staying.
Tiger's Curse by Colleen Houck
Passion. Fate. Loyalty.
Would you risk it all to change your destiny?
The last thing Kelsey Hayes thought she'd be doing this summer was trying to break a 300-year-old Indian curse. With a mysterious white tiger named Ren. Halfway around the world. But that's exactly what happened. Face-to-face with dark forces, spellbinding magic, and mystical worlds where nothing is what it seems, Kelsey risks everything to piece together an ancient prophecy that could break the curse forever.
Tiger's Curse is the exciting first volume in an epic fantasy-romance that will leave you breathless and yearning for more.
I'm really not that interested in this right now, so this is going. Have you read this? Do you think I should keep it?
Eragon by Christopher Paolini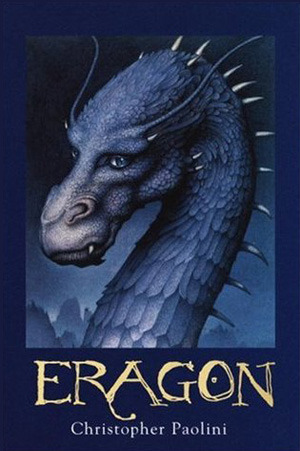 One boy…
One dragon…
A world of adventure.
When Eragon finds a polished blue stone in the forest, he thinks it is the lucky discovery of a poor farm boy; perhaps it will buy his family meat for the winter. But when the stone brings a dragon hatchling, Eragon soon realizes he has stumbled upon a legacy nearly as old as the Empire itself.
Overnight his simple life is shattered, and he is thrust into a perilous new world of destiny, magic, and power. With only an ancient sword and tge advice of an old storyteller for guidance, Eragon and the fledgling dragon must navigate the dangerous terrain and dark enemies of an Empire ruled by a king whose evil knows no bounds.
Can Eragon take up the mantle of the legendary Dragon Riders? The fate of the Empire may rest in his hands.
I'm really not interested in this right now either, so this is going.
Girl ,Missing by Sophie McKenzie
Lauren has always known she was adopted but when a little research turns up the possibility that she was snatched from an American family as a baby, suddenly Lauren's life seems like a sham. How can she find her biological parents? And are her adoptive parents really responsible for kidnapping her?
This doesn't seem like a book I'll get to anytime soon so this is going.
Books Kept:1
Books removed:4
I've removed more books than I've kept!
---
What do you think? Did I make the right decision in removing most of them?