Girls With Sharp Sticks by Suzanne Young
Source: E-ARC from Netgalley in exchange for honest review
Pages:400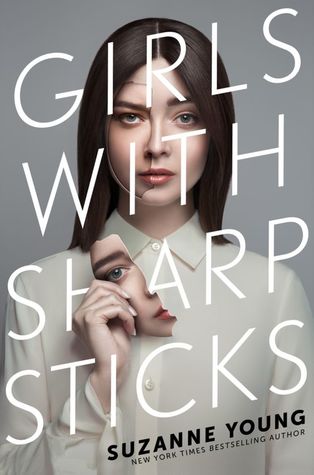 The Girls of Innovations Academy are beautiful and well-behaved—it says so on their report cards. Under the watchful gaze of their Guardians, the all-girl boarding school offers an array of studies and activities, from "Growing a Beautiful and Prosperous Garden" to "Art Appreciation" and "Interior Design." The girls learn to be the best society has to offer. Absent is the difficult math coursework, or the unnecessary sciences or current events. They are obedient young ladies, free from arrogance or defiance. Until Mena starts to realize that their carefully controlled existence may not be quite as it appears.
As Mena and her friends begin to uncover the dark secrets of what's actually happening there—and who they really are—the girls of Innovations will find out what they are truly capable of. Because some of the prettiest flowers have the sharpest thorns.
---
This post contains affiliate links.This means that if you purchase through such links, I will receive a small commission at no additional cost to you.
---
My review
Thank you to Netgalley and Simon and Schuster UK Children's for the E-ARC. All opinions are my own.
When I started this book, I didn't exactly know what this was about. I had read the synopsis but only remembered that it was set in a boarding school. I don't think the synopsis gave that much away.I'm glad that I didn't know much else and had fun guessing what was going to happen. All I'm going to tell you  the basic plot it;s about the girls in a boarding school finding out some secrets about it.
I really enjoyed the writing style and the way the story was told.It was told in first person and we found out things at the same time as the main character,Mena did. There was no unnecessary information given to confuse the reader. I liked this because it added to the mysteriousness of the book. This book made me very angry at most times, not because it was a bad book but because of how the girls were treated. I didn't like how they were manipulated and controlled.  It was a slow paced book but I really liked getting told the information bit by bit and theorising what could happen next. I had a lot of theories and some of them were correct. I guessed the big plot twist quite early on I'd say, but I was very invested in how we got there.
I liked Mena and I was really angry for her and the girls  at the start of the book. I wanted to protect them at all costs.I really liked the friendships in this book. I liked that the girls told each other their problems and looked out for each other, There was no rivalries like there normally are and I found that to be a nice change. The girls tried to help each other. There was hardly any romance in this book and no insta-love. There was attraction, but not the cringey kind. I appreciated the slow pace romance between Mena and Jackson. It wasn't the main focus of the story and I liked that.  I liked that Jackson was looking out for her and her well being.The only thing I found kind of weird was how they met again after that first meeting. It was stalkery. I would like to see more of him and Quentin in the next book.
I recommend this book to anyone who likes a boarding school setting, a mystery, and little to no romance.
4/5 
This book is out today in the UK and you can buy it here:Amazon|Book Depository
---
Do you plan on reading this? Have you read it?What did you think?
---
Graphic used and edited from free background photos from pngtree.com
---