Hey guys,
It's kind of just become a habit for me to post this so late into the month. I need to do better. Some of these books have already been released.  So without waiting any longer,here are my most anticipated releases of April in order of release date:
---
This post contains affiliate links.This means that if you purchase through such links, I will receive a small commission at no additional cost to you.
---
Descendent of the Crane by Joan He
Release Date: 9 April
Princess Hesina of Yan has always been eager to shirk the responsibilities of the crown, dreaming of an unremarkable life. But when her beloved father is found dead, she's thrust into power, suddenly the queen of a surprisingly unstable kingdom. What's more, Hesina believes that her father was murdered—and that the killer is someone close to her.
Hesina's court is packed full of dissemblers and deceivers eager to use the king's death for political gain, each as plausibly guilty as the next. Her advisers would like her to blame the neighboring kingdom of Kendi'a, whose ruler has been mustering for war. Determined to find her father's actual killer, Hesina does something desperate: she enlists the aid of a soothsayer—a treasonous act, punishable by
death, since magic was outlawed centuries ago.
Using the information provided by the sooth, and uncertain if she can trust her family, Hesina turns to Akira—a brilliant investigator who's also a convicted criminal with secrets of his own. With the future of Yan at stake, can Hesina find justice for her father? Or will the cost be too high?
Aah I've been anticipating this book for so long and can't wait to read it.
The Red Scrolls of Magic
by
Cassandra Clare and Wesley Chu
Release Date:9 April
From #1 New York Times bestseller Cassandra Clare and award-winner Wesley Chu comes the first book in a new series that follows High Warlock Magnus Bane and Alec Lightwood as they tour the world after the Mortal War. The Red Scrolls of Magic is a Shadowhunters novel.
All Magnus Bane wanted was a vacation—a lavish trip across Europe with Alec Lightwood, the Shadowhunter who against all odds is finally his boyfriend. But as soon as the pair settles in Paris, an old friend arrives with news about a demon-worshipping cult called the Crimson Hand that is bent on causing chaos around the world. A cult that was apparently founded by Magnus himself. Years ago. As a joke.
Now Magnus and Alec must race across Europe to track down the Crimson Hand and its elusive new leader before the cult can cause any more damage. As if it wasn't bad enough that their romantic getaway has been sidetracked, demons are now dogging their every step, and it is becoming harder to tell friend from foe. As their quest for answers becomes increasingly dire, Magnus and Alec will have to trust each other more than ever—even if it means revealing the secrets they've both been keeping.
I'm so excited to dive right back into the shadowhunter world.
Viper by Bex Hogan
Release Date||:18th April
Marianne has been training to be the Viper for her entire life – to serve and protect the King and the citizens of The Twelve Isles – but to become the Viper and protect the islands she loves she must find the strength to defeat her father. A new fantasy trilogy perfect for fans of Sarah J Maas.
He will make me a killer.
Or he will have me killed.
That is my destiny.
Seventeen-year-old Marianne is fated to one day become the Viper, defender of the Twelve Isles.
But the reigning Viper stands in her way. Corrupt and merciless, he prowls the seas in his warship, killing with impunity, leaving only pain and suffering in his wake.
He's the most dangerous man on the ocean . . . and he is Marianne's father.
She was born to protect the islands. But can she fight for them if it means losing her family, her home, the boy she loves – and perhaps even her life?
A brave heroine. An impossible dilemma. An epic new fantasy trilogy set on the high seas.
I heard about this book from twitter and it sounds really good. I'm very eager to get to it. I don't think it's available in the US but you can get it on bookdepository.
The Devouring Gray by Christine Lynn Herman
Release Date: 16 April
On the edge of town a beast haunts the woods, trapped in the Gray, its bonds loosening…
Uprooted from the city, Violet Saunders doesn't have much hope of fitting in at her new school in Four Paths, a town almost buried in the woodlands of rural New York. The fact that she's descended from one of the town's founders doesn't help much, either—her new neighbours treat her with distant respect, and something very like fear. When she meets Justin, May, Isaac, and Harper, all children of founder families, and sees the otherworldly destruction they can wreak, she starts to wonder if the townsfolk are right to be afraid.
When bodies start to appear in the woods, the locals become downright hostile. Can the teenagers solve the mystery of Four Paths, and their own part in it, before another calamity strikes?
I heard about this book from youtube and thought it sounded interesting so I'm excited to read it.
Girls with sharp sticks by Suzanne Young
Release Date:18th April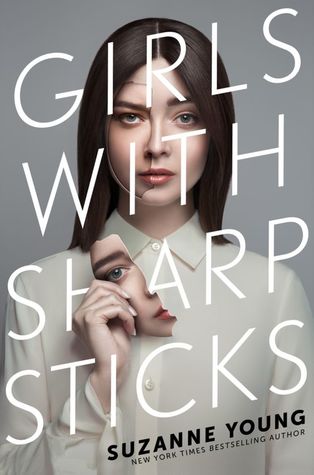 The Girls of Innovations Academy are beautiful and well-behaved—it says so on their report cards. Under the watchful gaze of their Guardians, the all-girl boarding school offers an array of studies and activities, from "Growing a Beautiful and Prosperous Garden" to "Art Appreciation" and "Interior Design." The girls learn to be the best society has to offer. Absent is the difficult math coursework, or the unnecessary sciences or current events. They are obedient young ladies, free from arrogance or defiance. Until Mena starts to realize that their carefully controlled existence may not be quite as it appears.
As Mena and her friends begin to uncover the dark secrets of what's actually happening there—and who they really are—the girls of Innovations will find out what they are truly capable of. Because some of the prettiest flowers have the sharpest thorns.
I absolutely love boarding school settings. Especially when there's secrets involved. I don't read many books like this and I should.
I had something else written here and wordpress deleted it. Basically what I was saying was that goodreads said this was a March release but turns out it wasn't so I included it here too. I have an E-ARC of this from netgalley and it's my next read.
---
Which April release are you most excited for?
---
Previous anticipated releases posts:Most Anticipated Releases|January 2019, Most Anticipated Releases|February 2019, Most Anticipated Releases|March
---
Graphic used and edited from free background photos from pngtree.com
---