Down The TBR Hole is a weekly meme that revolves around cleansing your TBR of all those books you're never going to read and sort through it all to know what's actually on there. It was created by Lost in A Story.
Most of you probably know this feeling, your Goodreads TBR pile keeps growing and growing and it seems like there is no light at the end of the tunnel. You keep adding, but you add more than you actually read. And then when you're scrolling through your list, you realize that you have no idea what half the books are about and why you added them. Well that's going to change!
It works like this:
Go to your goodreads to-read shelf.Order on ascending date added.Take the first 5 (or 10 if you're feeling adventurous) books. Of course if you do this weekly, you start where you left off the last time.Read the synopses of the booksDecide: keep it or should it go?
---
From last time I have 143 books on my TBR and you can see that post here.
Bloodlines by Richelle Mead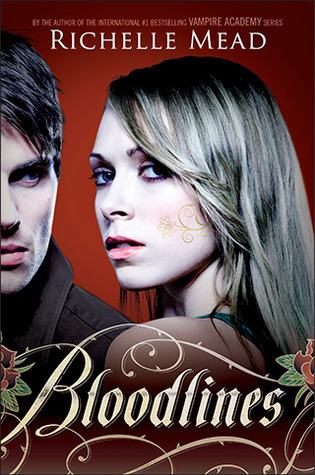 I still haven't finished The Vampire Academy series but I still want to read this but it won't be for a long time. This is staying.
Leviathan by Scott Westerfeld
Prince Aleksander, would-be heir to the Austro-Hungarian throne, is on the run. His own people have turned on him. His title is worthless. All he has is a battletorn war machine and a loyal crew of men.

Deryn Sharp is a commoner, disguised as a boy in the British Air Service. She's a brilliant airman. But her secret is in constant danger of being discovered.

With World War I brewing, Alek and Deryn's paths cross in the most unexpected way…taking them on a fantastical, around-the-world adventure that will change both their lives forever.
I don't remember what this is about and I'll have to read the synopsis and paste it in. Okay,so while it does sound interesting, I'm not sure if I'll get to it anytime soon and it's not something I want to read immediately.This is going.
White Cat by Holly Black
Cassel comes from a family of curse workers: people who have the power to change your emotions, your memories, your luck, by the slightest touch of their hands. And since curse work is illegal, they're all criminals. Many become mobsters and con artists. But not Cassel. He hasn't got magic, so he's an outsider; the straight kid in a crooked family. You just have to ignore one small detail – he killed his best friend, Lila, three years ago.

Cassel has carefully built up a facade of normalcy, blending into the crowd. But his facade starts to crumble when he finds himself sleepwalking, propelled into the night by terrifying dreams about a white cat that wants to tell him something. He's noticing other disturbing things, too, including the strange behavior of his two brothers. They are keeping secrets from him. As Cassel begins to suspect he's part of a huge con game, he must unravel his past and his memories. To find out the truth, Cassel will have to outcon the conmen
I loved The Cruel Prince by Holly Black. I think I'll give this a go. This is staying.
The Girl of Fire and Thorns by Rae Carson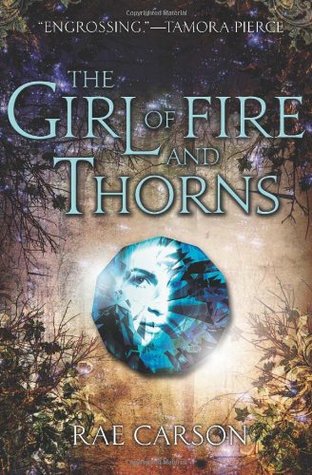 Once a century, one person is chosen for greatness.
Elisa is the chosen one. 

But she is also the younger of two princesses, the one who has never done anything remarkable. She can't see how she ever will. 

Now, on her sixteenth birthday, she has become the secret wife of a handsome and worldly king—a king whose country is in turmoil. A king who needs the chosen one, not a failure of a princess.

And he's not the only one who seeks her. Savage enemies seething with dark magic are hunting her. A daring, determined revolutionary thinks she could be his people's savior. And he looks at her in a way that no man has ever looked at her before. Soon it is not just her life, but her very heart that is at stake.

Elisa could be everything to those who need her most. If the prophecy is fulfilled. If she finds the power deep within herself. If she doesn't die young.

Most of the chosen do.
I've heard a lot of good things about this book, and it sounds interesting,so this is staying.
The Burning Sky by Sherry Thomas
It all began with a ruined elixir and a bolt of lightning.

Iolanthe Seabourne is the greatest elemental mage of her generation—or so she's been told. The one prophesied for years to be the savior of The Realm. It is her duty and destiny to face and defeat the Bane, the most powerful tyrant and mage the world has ever known. This would be a suicide task for anyone, let alone a reluctant sixteen-year-old girl with no training.

Guided by his mother's visions and committed to avenging his family, Prince Titus has sworn to protect Iolanthe even as he prepares her for their battle with the Bane. But he makes the terrifying mistake of falling in love with the girl who should have been only a means to an end. Now, with the servants of the tyrant closing in, Titus must choose between his mission—and her life.
I haven't heard anything about this book and it's not appealing to me right now so this is going.

---
Books Kept:3
Books Removed:2
---
What do you think? Did I make the right decision in removing the ones I did?