Another down the TBR post.
Down The TBR Hole is a weekly meme that revolves around cleansing your TBR of all those books you're never going to read and sort through it all to know what's actually on there. It was created by Lost in A Story.
Most of you probably know this feeling, your Goodreads TBR pile keeps growing and growing and it seems like there is no light at the end of the tunnel. You keep adding, but you add more than you actually read. And then when you're scrolling through your list, you realize that you have no idea what half the books are about and why you added them. Well that's going to change!
It works like this:
Go to your goodreads to-read shelf.
Order on ascending date added.

Take the first 5 (or 10 if you

'

re feeling adventurous) books. Of course if you do this weekly, you start where you left off the last time.

Read the synopses

of the books

Decide: keep it

or should it go?
---
From last time I have 150 books on my TBR. I ended up keeping one book that I said I was going to remove.I don't know why the numbers don't add up but oh well,I'll have to check.Last times post is here if you want to see which books I removed.
The Kiss of Deception by Mary E Pearson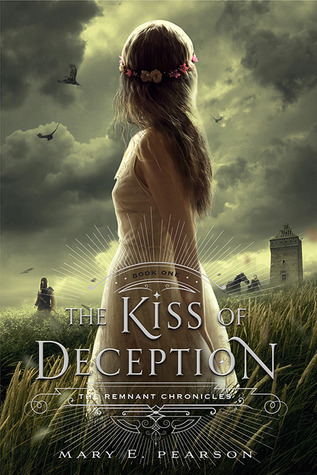 A princess must find her place in a reborn world.
She flees on her wedding day.
She steals ancient documents from the Chancellor's secret collection.
She is pursued by bounty hunters sent by her own father.
She is Princess Lia, seventeen, First Daughter of the House of Morrighan.
The Kingdom of Morrighan is steeped in tradition and the stories of a bygone world, but some traditions Lia can't abide. Like having to marry someone she's never met to secure a political alliance.
Fed up and ready for a new life, Lia flees to a distant village on the morning of her wedding. She settles in among the common folk, intrigued when two mysterious and handsome strangers arrive—and unaware that one is the jilted prince and the other an assassin sent to kill her. Deceptions swirl and Lia finds herself on the brink of unlocking perilous secrets—secrets that may unravel her world—even as she feels herself falling in love.
I've been wanting to read this book for so long and still do.
It's staying
Welcome to Shadowhunter Academy by Cassandra Clare and Sarah Rees Brennan
I've already read this so it shouldn't even be on my TBR. This goes to show why you should regularly check.
It's obviously going
Red Queen by Victoria Aveyard
This is a world divided by blood – red or silver.
The Reds are commoners, ruled by a Silver elite in possession of god-like superpowers. And to Mare Barrow, a seventeen-year-old Red girl from the poverty-stricken Stilts, it seems like nothing will ever change.
That is, until she finds herself working in the Silver Palace. Here, surrounded by the people she hates the most, Mare discovers that, despite her red blood, she possesses a deadly power of her own. One that threatens to destroy the balance of power.
Fearful of Mare's potential, the Silvers hide her in plain view, declaring her a long-lost Silver princess, now engaged to a Silver prince. Despite knowing that one misstep would mean her death, Mare works silently to help the Red Guard, a militant resistance group, and bring down the Silver regime.
But this is a world of betrayal and lies, and Mare has entered a dangerous dance – Reds against Silvers, prince against prince, and Mare against her own heart . . .
I have this on my bookshelf so
It's staying
The Final Empire by Brandon Sanderson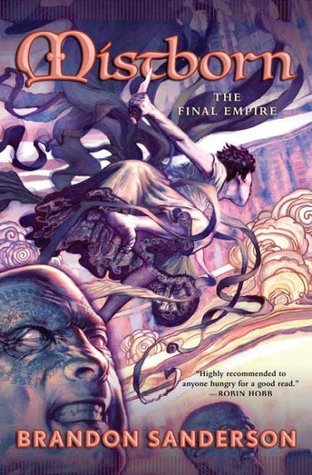 In a world where ash falls from the sky, and mist dominates the night, an evil cloaks the land and stifles all life. The future of the empire rests on the shoulders of a troublemaker and his young apprentice. Together, can they fill the world with color once more?
In Brandon Sanderson's intriguing tale of love, loss, despair and hope, a new kind of magic enters the stage — Allomancy, a magic of the metals.
I've been wanting to also read this book for a long time
It's staying
An Ember in the Ashes by Sabaa Tahir
Laia is a slave.
Elias is a soldier.
Neither is free.
Under the Martial Empire, defiance is met with death. Those who do not vow their blood and bodies to the Emperor risk the execution of their loved ones and the destruction of all they hold dear.
It is in this brutal world, inspired by ancient Rome, that Laia lives with her grandparents and older brother. The family ekes out an existence in the Empire's impoverished backstreets. They do not challenge the Empire. They've seen what happens to those who do.
But when Laia's brother is arrested for treason, Laia is forced to make a decision. In exchange for help from rebels who promise to rescue her brother, she will risk her life to spy for them from within the Empire's greatest military academy.
There, Laia meets Elias, the school's finest soldier—and secretly, its most unwilling. Elias wants only to be free of the tyranny he's being trained to enforce. He and Laia will soon realize that their destinies are intertwined—and that their choices will change the fate of the Empire itself.
Same goes for this book
It's staying
---
Books kept:4
Books removed:
This wasn't a good week in removing books but I'm glad I got to decide which ones to keep or not. Otherwise my TBR shelf would not decrease.
---
Do you agree with my choices? I basically kept all of them. Do you think I should remove any?