Hey guys!
Today I'm going to be sharing with you the books I hope to read in December. It's mostly the E-arcs I've said I want to finish by the end of 2018 but there are also others.
Lord of Shadows and Queen of Air and Darkness by Cassandra Clare.
I've already read this book! 
Ahh I've already started this and I'm so nervous for the ending of this series!
The Miseducation of Cameron Post by Emily M.danforth
When Cameron Post's parents die suddenly in a car crash, her shocking first thought is relief. Relief they'll never know that, hours earlier, she had been kissing a girl.

But that relief doesn't last, and Cam is soon forced to move in with her conservative aunt Ruth and her well-intentioned but hopelessly old-fashioned grandmother. She knows that from this point on, her life will forever be different. Survival in Miles City, Montana, means blending in and leaving well enough alone (as her grandmother might say), and Cam becomes an expert at both.

Then Coley Taylor moves to town. Beautiful, pickup-driving Coley is a perfect cowgirl with the perfect boyfriend to match. She and Cam forge an unexpected and intense friendship–one that seems to leave room for something more to emerge. But just as that starts to seem like a real possibility, ultrareligious Aunt Ruth takes drastic action to "fix" her niece, bringing Cam face-to-face with the cost of denying her true self–even if she's not exactly sure who that is.

The Miseducation of Cameron Post is a stunning and unforgettable literary debut about discovering who you are and finding the courage to live life according to your own rules. 
Mirage by Somaiya Daud
In a star system dominated by the brutal Vathek empire, eighteen-year-old Amani is a dreamer. She dreams of what life was like before the occupation; she dreams of writing poetry like the old-world poems she adores; she dreams of receiving a sign from Dihya that one day, she, too, will have adventure, and travel beyond her isolated moon.But when adventure comes for Amani, it is not what she expects: she is kidnapped by the regime and taken in secret to the royal palace, where she discovers that she is nearly identical to the cruel half-Vathek Princess Maram. The princess is so hated by her conquered people that she requires a body double, someone to appear in public as Maram, ready to die in her place.

As Amani is forced into her new role, she can't help but enjoy the palace's beauty—and her time with the princess' fiancé, Idris. But the glitter of the royal court belies a world of violence and fear. If Amani ever wishes to see her family again, she must play the princess to perfection…because one wrong move could lead to her death.
The Queen Of Innis Lear by Tessa Gratton
A KINGDOM AT RISK, A CROWN DIVIDED, A FAMILY DRENCHED IN BLOOD

Tessa Gratton's debut epic adult fantasy, The Queens of Innis Lear, brings to life a world that hums with ancient magic, and characters as ruthless as the tides.

The erratic decisions of a prophecy-obsessed king have drained Innis Lear of its wild magic, leaving behind a trail of barren crops and despondent subjects. Enemy nations circle the once-bountiful isle, sensing its growing vulnerability, hungry to control the ideal port for all trade routes.

The king's three daughters – battle-hungry Gaela, master manipulator Reagan, and restrained, starblessed Elia – know the realm's only chance of resurrection is to crown a new sovereign, proving a strong hand can resurrect magic and defend itself. But their father will not choose an heir until the longest night of the year, when prophecies align and a poison ritual can be enacted.

Refusing to leave their future in the hands of blind faith, the daughters of Innis Lear prepare for war – but regardless of who wins the crown, the shores of Innis will weep the blood of a house divided.
Three Dark Crowns by Kendare Blake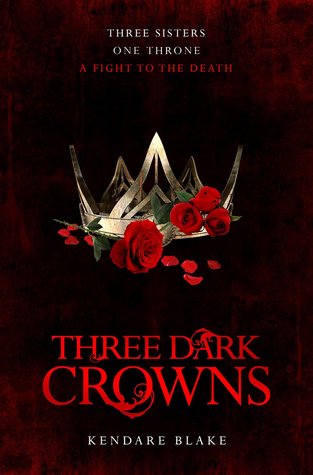 Three sisters. One crown. A fight to the death.

In every generation on the island of Fennbirn, a set of triplets is born: three queens, all equal heirs to the crown and each possessor of a coveted magic. Mirabella is a fierce elemental, able to spark hungry flames or vicious storms at the snap of her fingers. Katharine is a poisoner, one who can ingest the deadliest poisons without so much as a stomachache. Arsinoe, a naturalist, is said to have the ability to bloom the reddest rose and control the fiercest of lions.

But becoming the Queen Crowned isn't solely a matter of royal birth. Each sister has to fight for it. And it's not just a game of win or lose . . . it's life or death. The night the sisters turn sixteen, the battle begins.

The last queen standing gets the crown.
The Tudor Crown by Joanna Hickson
A compelling novel of the Tudors from the best-selling author of The Agincourt Bride.

The thrilling story of the first Tudor king, Henry VII and his fight for England's crown.

Henry Tudor's rise to the throne of England is one of the most eventful and thrilling episodes from England's royal history. Joanna Hickson weaves a compelling tale of Henry's grueling bid for kingship; encompassing exile, betrayal and intrigue, Henry faced obstacles at every turn. With her superb storytelling abilities, the author gets at the man behind the crown and delivers a dramatic and fascinating historical narrative.
From Twinkle with Love by Sandhya Menon
Aspiring filmmaker and wallflower Twinkle Mehra has stories she wants to tell and universes she wants to explore, if only the world would listen. So when fellow film geek Sahil Roy approaches her to direct a movie for the upcoming Summer Festival, Twinkle is all over it. The chance to publicly showcase her voice as a director? Dream come true. The fact that it gets her closer to her longtime crush, Neil Roy—a.k.a. Sahil's twin brother? Dream come true x 2.

When mystery man "N" begins emailing her, Twinkle is sure it's Neil, finally ready to begin their happily-ever-after. The only slightly inconvenient problem is that, in the course of movie-making, she's fallen madly in love with the irresistibly adorkable Sahil.

Twinkle soon realizes that resistance is futile: The romance she's got is not the one she's scripted. But will it be enough?

Told through the letters Twinkle writes to her favorite female filmmakers, From Twinkle, with Love navigates big truths about friendship, family, and the unexpected places love can find you.
Ace of Shades by Amanda Foody
Welcome to the City of Sin, where casino families reign, gangs infest the streets…and secrets hide in every shadow.

Enne Salta was raised as a proper young lady, and no lady would willingly visit New Reynes, the so-called City of Sin. But when her mother goes missing, Enne must leave her finishing school—and her reputation—behind to follow her mother's trail to the city where no one survives uncorrupted.

Frightened and alone, Enne has only one lead: the name Levi Glaisyer. Unfortunately, Levi is not the gentleman she expected—he's a street lord and a con man. Levi is also only one payment away from cleaning up a rapidly unraveling investment scam, so he doesn't have time to investigate a woman leading a dangerous double life. Enne's offer of compensation, however, could be the solution to all his problems. 

Their search for clues leads them through glamorous casinos, illicit cabarets and into the clutches of a ruthless Mafia donna. As Enne unearths an impossible secret about her past, Levi's enemies catch up to them, ensnaring him in a vicious execution game where the players always lose. To save him, Enne will need to surrender herself to the city…

And she'll need to play.
Shatter Me by Tahereh Mafi
Juliette hasn't touched anyone in exactly 264 days.

The last time she did, it was an accident, but The Reestablishment locked her up for murder. No one knows why Juliette's touch is fatal. As long as she doesn't hurt anyone else, no one really cares. The world is too busy crumbling to pieces to pay attention to a 17-year-old girl. Diseases are destroying the population, food is hard to find, birds don't fly anymore, and the clouds are the wrong color.

The Reestablishment said their way was the only way to fix things, so they threw Juliette in a cell. Now so many people are dead that the survivors are whispering war – and The Reestablishment has changed its mind. Maybe Juliette is more than a tortured soul stuffed into a poisonous body. Maybe she's exactly what they need right now.

Juliette has to make a choice: Be a weapon. Or be a warrior.
The Silver Queen by Josie Jaffrey
The last city on Earth is contaminated. Now blood is the only thing that can wash it clean.

Julia is trapped inside the Blue as the Nobles fight over the few humans who are still alive. When the dust settles and she finds herself shackled to a new master, she knows she must escape or die.

Meanwhile, Cam has gathered a handful of comrades and is on his way into the Red to rescue his queen. But not all of his friends can be trusted, and not all of them will make it back alive.

The Silver Queen is the second book in Josie Jaffrey's Sovereign trilogy, set in a dystopian Europe where vampiric Nobles control the last remnants of the human race.
I received this from the author and really hope to get to it this month.
---
What are you planning to read this month? What are you most excited for?