Hey guys,
Today I'm going to be sharing with you what I read in September.
The Hazel Wood by Melissa Albert
Seventeen-year-old Alice and her mother have spent most of Alice's life on the road, always a step ahead of the strange bad luck biting at their heels. But when Alice's grandmother, the reclusive author of a book of pitch-dark fairy tales, dies alone on her estate – the Hazel Wood – Alice learns how bad her luck can really get. Her mother is stolen away – by a figure who claims to come from the cruel supernatural world where her grandmother's stories are set. Alice's only lead is the message her mother left behind: STAY AWAY FROM THE HAZEL WOOD.

To retrieve her mother, Alice must venture first to the Hazel Wood, then into the world where her grandmother's tales began…
This was and E-ARC. I found this book to be enjoyable. It wasn't my favourite but it was good. I have a review written up for this (that I accidently posted before) that I'll post later in this month. I'll link it here when I do.
3.5/5
Dickensen Academy by Christine Grabowski
Dickensen Academy isn't a typical boarding school. The faculty is hiding an unbelievable secret within their fine arts program. When Autumn Mattison receives an invitation to attend the high school, she yearns to escape her overbearing father yet remains reluctant to leave her mother and brother. Her doubts fade away when a vivid dream convinces her she belongs there.

Away from home, Autumn discovers a unique school environment that awakens her creative potential, and her new friends become like a second family. However, as she uncovers more about the dark side of the school and struggles with its curriculum, she questions whether Dickensen Academy is truly where she belongs.

When tragedy strikes, Autumn must learn to believe in her own power and stand up to her greatest fear or risk having her memories destroyed to protect the school's secrets. Caught between secrets and dreams, can she find her true self?
This was a e-review copy and I enjoyed this book too. You can read my review here.
3/5
City Of Lost Souls by Cassandra Clare
SPOILERS FOR BOOK 1-4

The New York Times bestselling Mortal Instruments continues—and so do the thrills and danger for Jace, Clary, and Simon.

What price is too high to pay, even for love? When Jace and Clary meet again, Clary is horrified to discover that the demon Lilith's magic has bound her beloved Jace together with her evil brother Sebastian, and that Jace has become a servant of evil. The Clave is out to destroy Sebastian, but there is no way to harm one boy without destroying the other. As Alec, Magnus, Simon, and Isabelle wheedle and bargain with Seelies, demons, and the merciless Iron Sisters to try to save Jace, Clary plays a dangerous game of her own. The price of losing is not just her own life, but Jace's soul. She's willing to do anything for Jace, but can she still trust him? Or is he truly lost?

Love. Blood. Betrayal. Revenge. Darkness threatens to claim the Shadowhunters in the harrowing fifth book of the Mortal Instruments series.
I'm loving this reread. I read these books years ago and it's a good refresher on the books.
5/5
The Gilded King by Josie Jaffrey
In the Blue, the world's last city, all is not well.

Julia is stuck within its walls. She serves the nobility from a distance until she meets Lucas, a boy who believes in fairytales that Julia's world can't accommodate. The Blue is her prison, not her castle, and she'd escape into the trees if she didn't know that contamination and death awaited humanity outside.

But not everyone in the Blue is human, and not everyone can be contained.

Beyond the city's boundaries, in the wild forests of the Red, Cameron has precious little humanity left to lose. As he searches for a lost queen, he finds an enemy rising that he thought long dead. An enemy that the humans have forgotten how to fight.

One way or another, the walls of the Blue are coming down. The only question is what side you'll be on when they do.
This was a review copy and I absolutely loved this book! You can read my full review here.
4.5/5
And last but not least:
Queen Of Shadows By Sarah J Maas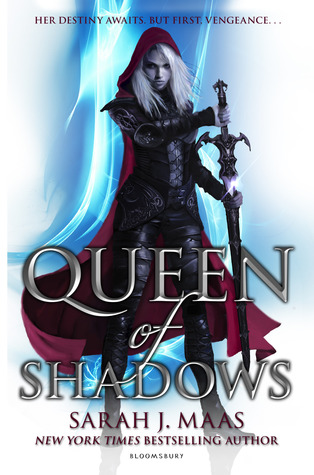 SPOILERS FOR BOOK 1-3

Everyone Celaena Sardothien loves has been taken from her. But she's at last returned to the empire—for vengeance, to rescue her once-glorious kingdom, and to confront the shadows of her past . . .

She will fight for her cousin, a warrior prepared to die just to see her again. She will fight for her friend, a young man trapped in an unspeakable prison. And she will fight for her people, enslaved to a brutal king and awaiting their lost queen's triumphant return.

Celaena's epic journey has captured the hearts and imaginations of millions across the globe. This fourth volume will hold readers rapt as Celaena's story builds to a passionate, agonizing crescendo that might just shatter her world.
I forgot so much of this book! I remembered the main events but not much. I'm so glad I reread so I'm prepared for Kingdom of Ash, which is coming out this month! I need to reread the last two then I'll be ready.
5/5
---
That's it. I wanted to read so many E-Arcs but didn't get to them. I've done a few reviews and I'm quite proud of that.
How many books did you read in September? Which was your favourite?