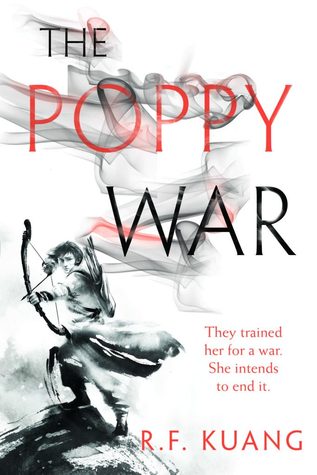 The Poppy War by R.F Kuang                                                                                            Source:*E-ARC from Netgalley
Pages:544
Buy:Amazon|Book Depository                                                                                                                                    Add to Goodreads
Synopsis
When Rin aced the Keju, the Empire-wide test to find the most talented youth to learn at the Academies, it was a shock to everyone: to the test officials, who couldn't believe a war orphan from Rooster Province could pass without cheating; to Rin's guardians, who believed they'd finally be able to marry her off and further their criminal enterprise; and to Rin herself, who realized she was finally free of the servitude and despair that had made up her daily existence. That she got into Sinegard, the most elite military school in Nikan, was even more surprising.
But surprises aren't always good.
Because being a dark-skinned peasant girl from the south is not an easy thing at Sinegard. Targeted from the outset by rival classmates for her color, poverty, and gender, Rin discovers she possesses a lethal, unearthly power—an aptitude for the nearly-mythical art of shamanism. Exploring the depths of her gift with the help of a seemingly insane teacher and psychoactive substances, Rin learns that gods long thought dead are very much alive—and that mastering control over those powers could mean more than just surviving school.
For while the Nikara Empire is at peace, the Federation of Mugen still lurks across a narrow sea. The militarily advanced Federation occupied Nikan for decades after the First Poppy War, and only barely lost the continent in the Second. And while most of the people are complacent to go about their lives, a few are aware that a Third Poppy War is just a spark away . . .
Rin's shamanic powers may be the only way to save her people. But as she finds out more about the god that has chosen her, the vengeful Phoenix, she fears that winning the war may cost her humanity . . . and that it may already be too late
Trigger Warnings
Self-harm
Suicide
Violent rape
Sexual assault
Murder
Massacres
Brutalization
Mutilation
Torture
Substance abuse
Abuse
Emotional abuse
Physical abuse
Relationship abuse
Human experimentation
Chemical warfare
Genocide
I got these from the author's website and if you want to know more you can find that here.
My thoughts
Before I start this review I wanted to emphasise this is an adult book and if anything triggers you, you should look at the trigger warnings above.
This book was a hard book to get through. Not because of the writing but because of the subject matter. It is essentially about a world where war is on the horizon again and preparing for it. It's about the brutality of war and the lengths people go to win it.It's about a girl evading an arranged marriage to go to school.I really enjoyed the writing style but in some parts it was a bit vague,especially in the school years. 2-3 years went by but each major event happened in a few paragraphs. We were told what happened and didn't get to see it in detail.The book is already 544 pages so I understand why it was shortened. I understand this is based on modern Chinese history and it is brutal. Other than focusing on war, the first part of the book is about Rin and how she overcomes the bullying she faces and tries to come out on top. I loved that this book had no romance as most books have them in some shape or form.
I really liked Rin and how determined she is to get what she wants. You watch her grow up and be herself. She faces a lot of racism because her skin is darker than others, she also faces hardships because she's from a poorer distract. She shows them that that can't stop her and hard work pays off.One of my favourite characters have to be Jiang. I think he's really weird and essentric.He's the character who brought a little light to a otherwise dark book. At least in the start of the book.
I don't have much to say about this book,even though I've been thinking for days on how to write this.I might have to come and update this when I can artiulate my words. Just know I highly recommend this book.
5/5
*Thank you to netgalley and Harpercollins UK for the e-arc.                                                  All views expressed are my own.