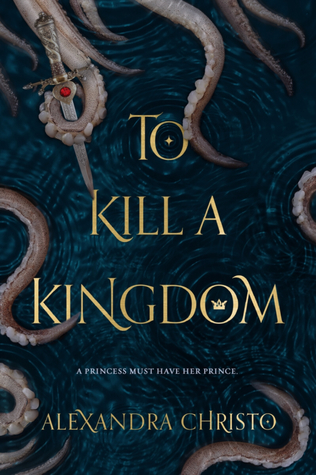 To Kill a Kingdom by Alexandra Christo
Source:*E-arc
Pages:342
Buy:Amazon|Book Depository|Goodreads
Synopsis
Princess Lira is siren royalty and the most lethal of them all. With the hearts of seventeen princes in her collection, she is revered across the sea. Until a twist of fate forces her to kill one of her own. To punish her daughter, the Sea Queen transforms Lira into the one thing they loathe most—a human. Robbed of her song, Lira has until the winter solstice to deliver Prince Elian's heart to the Sea Queen or remain a human forever.
The ocean is the only place Prince Elian calls home, even though he is heir to the most powerful kingdom in the world. Hunting sirens is more than an unsavory hobby—it's his calling. When he rescues a drowning woman in the ocean, she's more than what she appears. She promises to help him find the key to destroying all of sirenkind for good—But can he trust her? And just how many deals will Elian have to barter to eliminate mankind's greatest enemy?
My thoughts
I found this book to be a very enjoyable read. I heard a lot about it in the book community and knew that I had to read it. I liked all the different characters and seeing that there were many sides to them and that they weren't just cruel. This was told in two different first person perspectives,Elian and Lira,I found it sometimes to be confusing on who was narrating,not because the characters were very similar but because there was no indication that the point of view had changed.I don't know if this is the case in the physical books.Though, It was easy to distinguish after the first two sentences and didn't take away from the story. I also really enjoyed the romance in this book and found it refreshing not to be the main focus. It was a really good slow-burn romance.I really liked the world that they were living in and the different kingdoms and how they interact with each other. Another thing I liked was how the sirens looked.They weren't necessarily the most beautiful and some had tentacles but you could still like them.It's what on the inside that counts,which is a very good message. One thing I disliked was that it  took a lot of time to actually get to the main plot,which made me take a bit longer to read and be not as interested in it but once the main plot was estabished,I was flying through it.Another thing is that it's a stand-alone fantasy!  No waiting for another book to come out,although I think there might be potential for another book,i'm very happy with the ending,which doesn't leave a lot unanswered.
⭐⭐⭐⭐
*Thank you to netgalley and hot key books for the e-arc.
All views expressed are my own.
If this sounds interesting to you make sure to check this book out as it's in stores today!
Are you planning on reading To Kill a Kingdom? Have you read it? What did you think?