---
This post contains affiliate links.This means that if you purchase through such links, I will receive a small commission at no additional cost to you.
---
cost to you.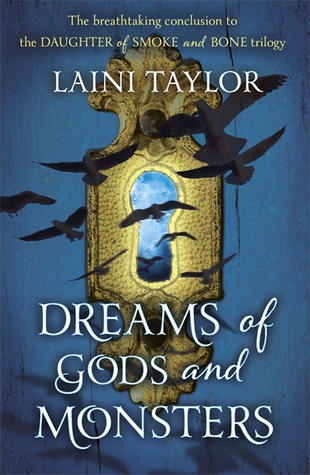 Dreams of Gods and Monsters
Source:Borrowed
Pages:613
Buy:Amazon US|Book Depository| Amazon UK
Add to Goodreads 
Synopsis of Daughter of Smoke & Bone (Daughter of Smoke & Bone #1)
Around the world, black hand prints are appearing on doorways, scorched there by winged strangers who have crept through a slit in the sky.
In a dark and dusty shop, a devil's supply of human teeth grows dangerously low.
And in the tangled lanes of Prague, a young art student is about to be caught up in a brutal otherworldly war.
Meet Karou. She fills her sketchbooks with monsters that may or may not be real, she's prone to disappearing on mysterious "errands", she speaks many languages – not all of them human – and her bright blue hair actually grows out of her head that color. Who is she? That is the question that haunts her, and she's about to find out.
When beautiful, haunted Akiva fixes fiery eyes on her in an alley in Marrakesh, the result is blood and starlight, secrets unveiled, and a star-crossed love whose roots drink deep of a violent past. But will Karou live to regret learning the truth about herself?
My thoughts on the final in the series
This is the last book in the Daughter of Smoke and Bone trilogy. I really loved this book, although it took me over 3 weeks to read, (Uni!). I liked the characters and that although they had difficult decisions to make, they made them, whatever the cost. I especially liked the character development of Ziri and Liraz. In the other books we didn't really know them, but this book got to explore their character and exactly who they were. I also really enjoyed reading about Zuzana and Mik. In terms of the actual story, I would have to get into the spoilers.
SPOILERS
Misbegotten and chimaera work together in this book. It was interesting to see the contrast between the start of the book and towards the end. At first, they were at each other's throats and by the end some had even fallen in love! I liked that Karou and Akiva finally reconciled, although Akiva leaving for the far isles made it bittersweet and I was so annoyed that he had to leave her. Their plan was very simple to defeat Jael and it was a very good plan, in my opinion. It was a very good thing that Akiva found a way to make the Hamas power redundant. Although Karou's fake grandmother nearly ruined it for them. She got what she deserved, and she always seemed suspicious to me. Good on Zuzana and Mik for stealing her wishes! I liked the ending was eluding to a happy ending even though they had a lot of things to fix.
⭐⭐⭐⭐⭐
Have you read any of the books in the trilogy? Did you enjoy them?